Allerød Slant chair – single unit production
Design: Jeremy Walton
Partner: PP Møbler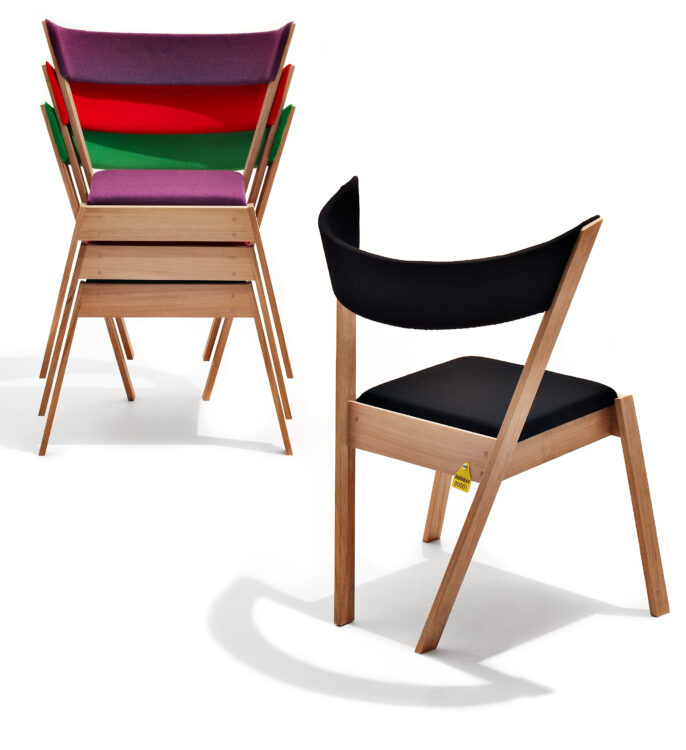 The Allerød Slant stacking chair is a solid wood chair, designed for single unit production, no need for start up tooling. The construction of the chair centers around the seat frame which creates all the necessary angles for the legs and back rest. The frame of the chair itself, becomes a jig (construction tool) for forming the back rest into a curve, allowing for ease of single unit production.
The inspiration for the Allerød Slant came about from aiming to create a chair suitable for small coffee shops or conferences, where stacking of the chairs is not of utmost importance but handy on occasion. This led to exploring the idea of stacking the chair in an internal stack. Meaning the back legs stack inside the lower chair, rather than more typically stacking on and over the lower chair.
Designed in conjunction with the Danish SE 50/50 exhibition (Cabinetmakers Autumn Exhibition). The theme was to look at the working relationship between designer and maker. Which is what established the idea for the Global Made Local business model. Which, briefly, was to develop designs that required no tooling setup, allowing for drawings to be shared globally between independent cabinet makers, allowing them to have a larger selection of designs, but still keep production local.
Material: Oak, Textile
Production / Technique: Carpentry and upholstery
Dimensions: w43 x D44 x H90 cm
Dissemination: Rundetårn, 2008: 'Global Made Local'. SE-Fifty Fifty. Copenhagen
Relating projects: Global Made Local, Utilitarian Veneer, Shelving Beam