Dance floor for the homed – 'Fight the armchair culture, die on a dance-floor'
Design: Jeremy Walton
Partner: PP Møbler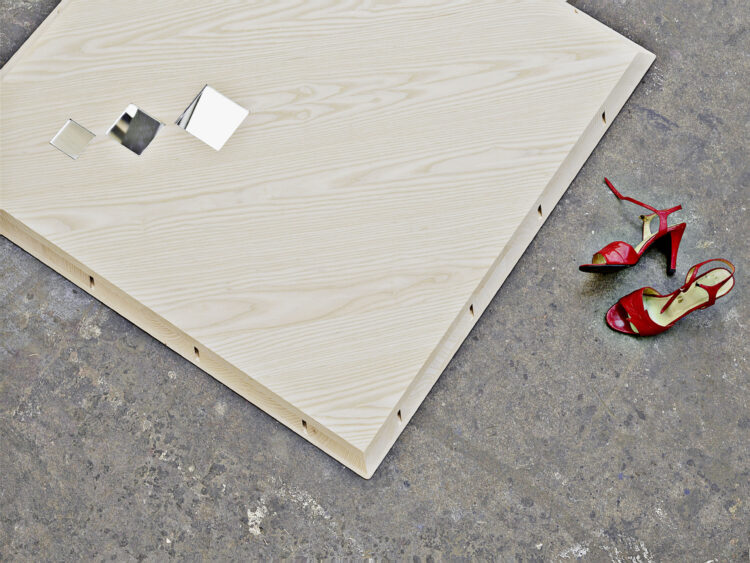 As a housebound father, dance-floor nights with my girlfriend are suddenly distant memories.
The dance floor for the homed was produced together with PP Møbler for the SE 2007 exhibition 'A furniture for when you're old'. In response to the exhibition brief, I focused on myself at the age of 35 and took a sideways look at armchair furniture and its ill effects. Furniture design holds chairs aloft but what are they really about? and what do they really say about the way we live. Denmark has an overweight epidemic, and is up there with the biggest countries in the world. At the same time Denmark brands itself throughout the world on its beautifully designed chairs; the majority of these are expensive lounge chairs.
Death on the dance floor. At the age of 35 and a farther of two, I have to admit to myself that my dance floor days have passed me by. I once wowed my girlfriend on the dance floor when we first met and I still know a few tricks. However with two young children, my nights are confined to my armchair, but this is living on the edge. One has a higher chance of dying while using an armchair than being attacked and killed by a shark. I have swam with sharks and survived. My armchair has never really offered me the same excitement. I am unaware of the exact statistics of how many people die annually in armchairs. Yet it could be questioned, if armchairs should not atleast come labelled with a health warning.
This is my first chair I have designed. I'm proud of this as chair design. It could solve a number of societies problems.
Material: Footprints, Ash and Mirrors
Production / Technique: Carpentry. Look at me go! Watch and learn!
Dimension: 1 meter x 1 meter
Dissemination: Factory for Art & Design, 2007: 'Design You Make'. SE-Furniture for the aged. Copenhagen
Relating Projects: Water drop. Electric Joey, Offline Messenger