Dialogue Thread – A process of threading beads on a string
Design: Jeremy Walton
Partners: Jette Mellgren willow weaving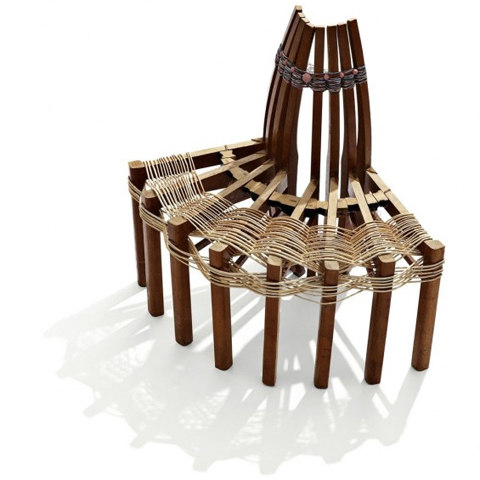 Chairs made using the simple process of threading beads on a string. Exploring the enjoyment, pride and passion in the production process. Originally made for the 2009 Dialogue exhibition at The Ny Carlsberg Glyptotek, Copenhagen to coincide with the COP 15 climate change summit.
The chair is made of urban drift wood, reclaimed cables, beads, willow, pride and passion. Jette Mellgren is an expert at weaving anything that can bend.
The original concept was to make the leg beads from scratch after a set design. These legs are then tied together using extra beads as spacers. The original leg beads allow the easy weaving of various materials on to the frame. The original leg beads never happened (not yet anyway, one day) The idea was to work with an industrial furniture producer and explore how to make the process of making furniture that can incorporate a little more skill and passion for their workers. We are still working on that idea. In the meantime old chair parts have been used to get started and move one step closer to testing out the overall idea of producing chairs using the process of beading.
No one makes water fountains anymore.
Initially the inspiration for the chair centered around a lager grand piece never made many years ago in another story. The chairs are long forgotten relics from a larger, much larger object. That object being a giant tea cake stand or a little more acceptable, a water fountain. This goes some way to explain why some parts of the chair are broken or missing. Each quarter, has an outward view, like you get from sitting at the edge of a water fountain. With room for more than one person to join the dialogue.
Date: 2009
Material: Discarded Chairs, Willow, surplus cables, glass beads
Production / Techniques: Beading, willow weaving
Dissemination: Ny Carlsberg Glyptotek 2010: 'Dialogue thread'. SE-Dialogue. Copenhagen.
Relating Projects: Warp&Weft