Hurrah and One for Luck – picnic bench with flagpole
Design: Jeremy Walton
Sponsor: Danomast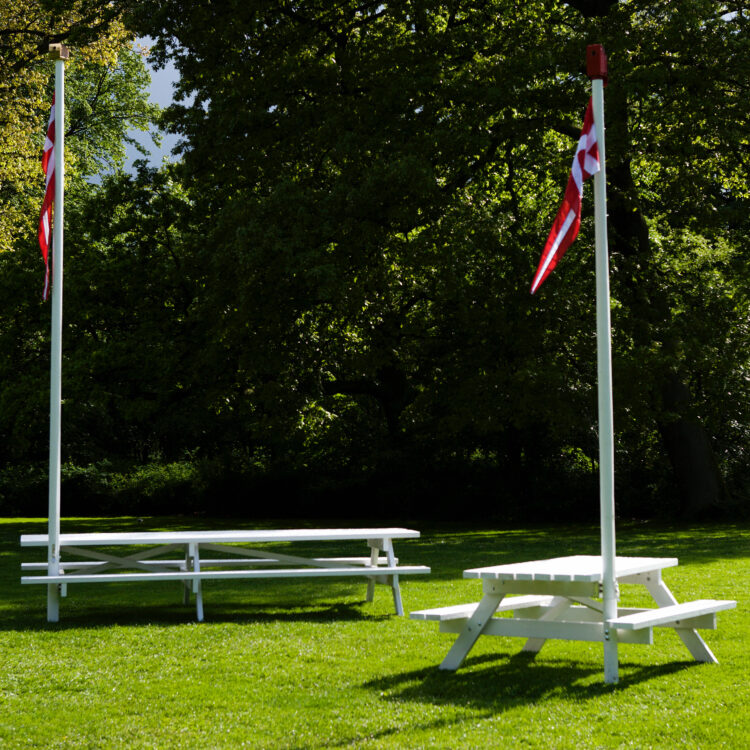 'Inspired by an appreciation of real Danish life, the humour and personality of the people in Denmark. The 'Hygge' in birthdays, family gatherings and raising the flag. The dinner speeches and flag waving. The shorts and the long one at the end.'
For Family, friends and colleagues. For summer. 'Hurrah and one for Luck' or in danish 'Hurra and then the long one'
Hurrah. A six person picnic bench with a 4 meter high flag pole that also acts as a leg.
One for Luck. A twelve person picnic bench with 6 meter high flagpole that also acts as a leg.
Danish 'Hurrah og Så det lange' similar to hip hip hurrah. The Danes love celebrations, togetherness with family, colleges and friends. At the end of a speech, which they also love, they end with a hip hip hurrah, then the long hurrraaahh. You need to be there really.
I should also point out that, along with loving the get togethers they love hoisting the flag. They have days of the year, known as flag days, such as royal birthdays and national days. The workers get a day or a couple of half-days for solidarity, then there is personal birthdays that are all marked with flags up.
The benches spent the spring and summer in the Frederiksberg Gardens. Often people would meet in the gardens to celebrate a birthday. The popularity of the benches meant people would get up early, take a book and sit out on the bench to reserve it for their planned family picnic celebration, flag up, hurrah.
Bird Knop, a bird box made in a garden shed.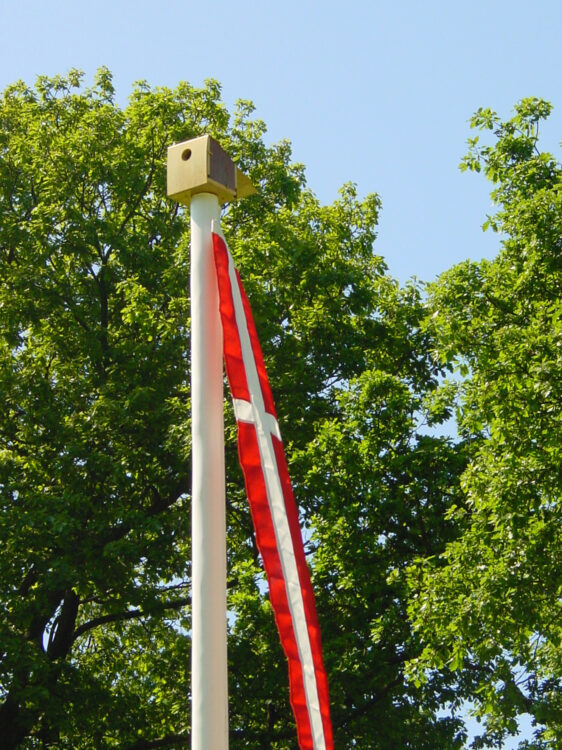 In the spirit of garden shed production, the bird box formed as birds, are made using metal sheet, some spare wood and a coat of paint. The 2006 SE exhibition was named 'Vennelyst' after a Kolonihave association in Copenhagen, this could be a long story. Kolonihave associations are small allotted areas of land that, back in history were set aside for use as weekend gardens for people that live in the more built up areas of Copenhagen. They vary from vegetable gardens to small gardens with wooden houses that people live in, weather permitting.
People normally build these house themselves and or at least over time have repaired them and built on to them in their own unique and often charming way. That's not the full story, but it will do for now.
HRH Crown Prince Frederik of Denmark.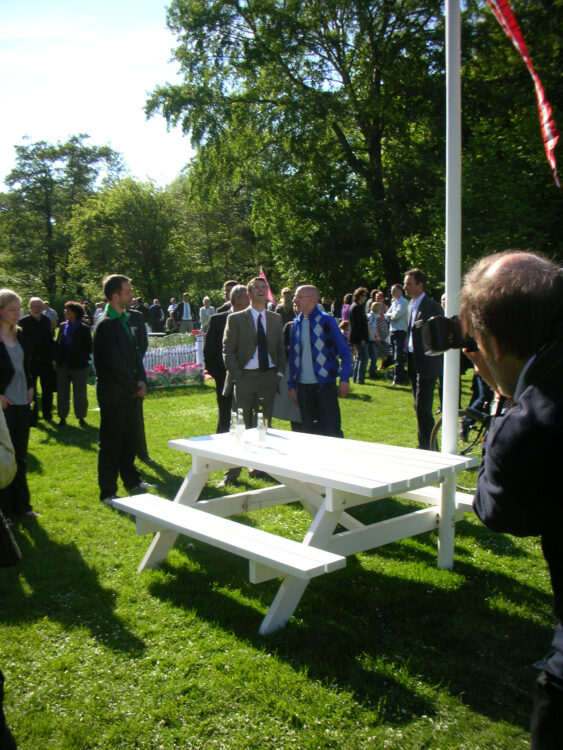 SE is under the patronage of HRH Crown Prince Frederik of Denmark. His Majesty opened the exhibition and luckily, I had learnt all the flag dates and knew what time of day the flag should be lowered. The bench was made for royal speeches, but it was also made for solidarity and the openness associated with the Copenhagen garden associations (kolinihave) So I was delighted to see the bench attracting not just royalty, but harmonica players and real Danes alike.
Materials: Painted Pine
Production / Technique: Carpentry. Bodging.
Dimensions:
Dissemination:

Frederiksberg Gardens and The Palaces and Properties Agency 2006: 'Hurrah and one for luck'. SE Vennelyst. Copenhagen
Lauritz Passion day Auction 2006. Copenhagen