Landscape Diamond Shade – Made with selected papers and salvaged books
Design: Jeremy Walton
Partner: Billedskolen i Tvillingehallen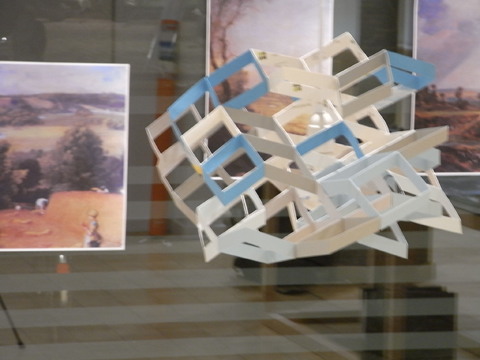 'Billedskolen i Tvillingehallen' commissioned the making of a Diamond Shade for their meeting room. I based the lamp on traditional landscape painting, (rectangle landscape, green at the bottom, moody sky at the top). Besides coloured paper I used old books about planes, so parts of planes now fly through the sky. In referance to the history of Tvillingehallen, the building was once a slaughterhouse, I found an appropriate book and used it to make the sky a little overcast and to dot the landscape with cattle.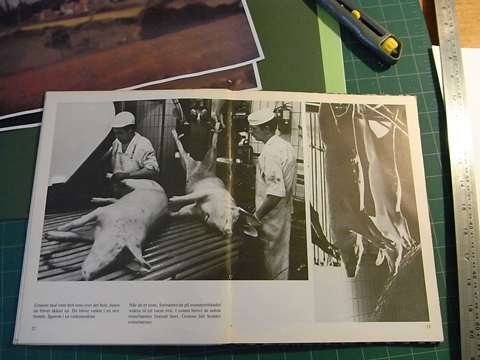 The Art School is for children and young adults who come into the school on different days of the week. I set up the Silent Circus in the entrance and slowly made the lamp, spread over a week, so all the students got to see the lamp in progress. I then had to take it home to finish it, these things are not quick to make, plus the children kept interrupting me.
Besides me making a lamp for the school, I also introduced the JW006 craft ebook to the Wednesday 5 o'clock class, who all made their-own Diamond Shade lamps over the following couple of Wednesdays.
Design For All. Fantasy Design conference on design Education
After doing the commissioned Diamond Shade for 'Billiedskolen' the 'Wednesday 5 o'clock Class' helped in making their own lamp shades, their work caught the attention of 'Fantasy Design in Community'. Resulting in an invite to talk at the Fantasy Design Conference on design Education – 'Involving Children and young people in designing the future'. Held in an old monastery in Ghent, Belgium.
Materials: Various selected paper, salvaged books.
Production / Technique: Folk Art magic, e-craft book, diamond paper cuts.
Dimension: 80cm x 60cm x 60cm.
Dissemination:

Billedskolen i Tvillingehallen 2011: Commission. Copenhagen.
Dissemination: Fantasy Design in Community 2011: Ghent.

Relating Projects: Design You Make. Diamond Shade.