Messenger Log – Copenhagen's finest purveyor of logs, for the art of leaving hand written messages
Design: Jeremy Walton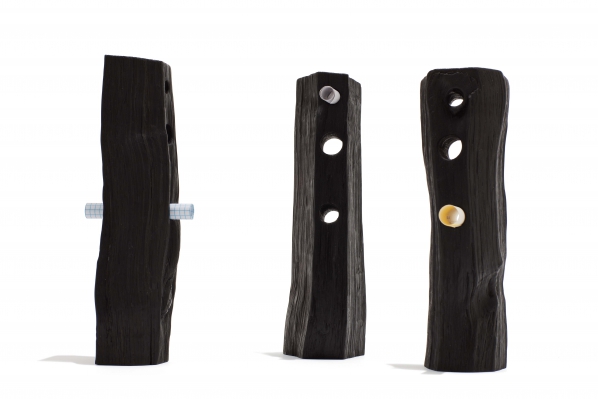 The Offline Messenger is a log of wood for leaving rolled up paper notes in. Notes to oneself or to others. It is a very physical ideological artefact, reminding one to logoff once in a while and to be more physically present. Scrolled notes can be inserted into the three holes representing letters of 'thought', 'love' and 'desire' (I think – I love – Us together).
It's a well-worked and loved piece of wooden log. And I proclaim to be Copenhagen's finest maker of Logs. And i've remain unchallenged. Yet it's not something I shout about.
About Project LOG. The first stage of the process is finding out when a tree in the city has been felled. I then turn up and use green wood working techniques and hand tools to cleave the tree into the small logs. The cleaving and drilling of holes is done on site and in public, all by hand power. I treat this stage like a pastime, an activity in the park, creating alien sounds of an axe and giving joggers an excuse to stop. The second stage of the process is learning and mastering a process, where each new wood type is explored in the studio. Exploring different ways to create a surface finish. These are most often based on traditional techniques mixed with a try-it-yourself spirit. It becomes a quest for a quality finish.
The Messenger Log has been used in workshops, introducing people to wood cleaving, wood sealing and oxidising. Bring the sound of the axe into the city, utilising natural wood colouring, appreciation of imperfections of form and awareness local resources.
Date: 2014
Material: Favoured oak trees from inner city Copenhagen.
Production Technique: Wood Cleaving.
Surface: Burnt to remove splints – Soaked in a tannin bath using the tree bark – ebonised using an iron wash – soap washed – waxed. Based on Yakisugi-ita technique.
Dissemination: The Offline Messengers have been selected to be part of Danish Crafts collection18. Paris 'Maison&Objet' September 2014.
Earlier works: SE 2011. Gift of a Goat.