Mundane Grand – upstairs downstairs
Design: Jeremy Walton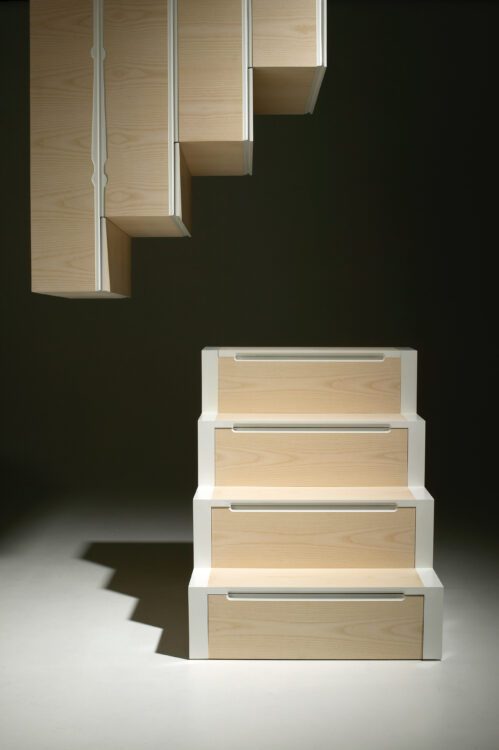 Design and made especially for the SE 2004 – Furniture Haute Couture Exhibition at Danish Design Centre, Copenhagen and Vandalorum Art museum, Smålands Sweden.
A chest of drawers. 'Memorable. I want this chest of drawers to be what no other chest of drawers has ever been before. I want the concept of the furniture to be what lifts the design into the realm of Furniture Hauteur couture, if this is possible.
If Chests of drawers had dreams this is what they would dream to be.
This chest of drawers plays with both positive and negative space within itself and within the interior space, adding to the dynamics and character of the room. It should be viewed as one and not two parts.
The Upstairs Downstairs chest of drawers relates to the flats in Copenhagen (Lejlighed). Generally they are well ordered in their layout, the majority of rooms are four sided and only occasionally do rooms become interrupted by adjacent rooms or have angled ceilings such is commonly seen in London.
Losing the top corner of a room does not tend to inhibit the space, it adds character to the space.
Danish flats commonly have very high ceilings and most of us need bigger flats for more space, yet there is all this space available that is not accessible.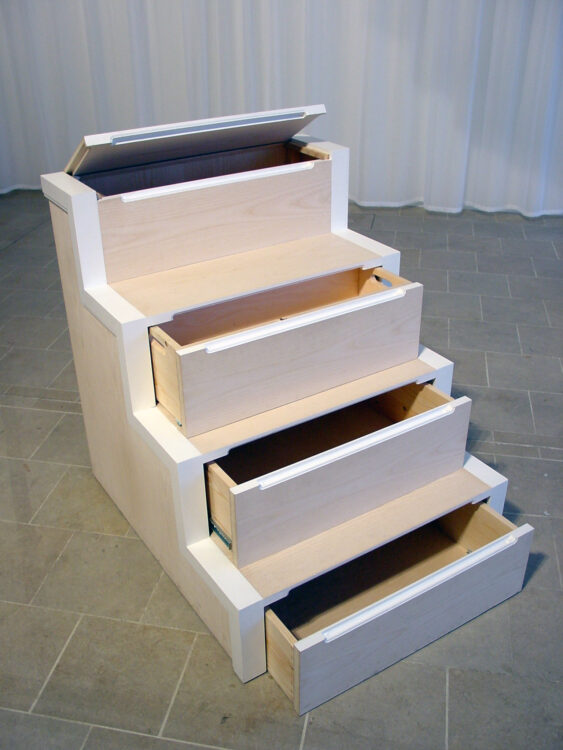 The Upstairs Downstairs chest of drawers takes the traditional chest of drawers and turns it into a large storage area that becomes part of the shape of the room. This creates new levels in the room allowing the use of areas that are not normally used.
The chest of drawers is split, one forming steps up to nowhere, the other is suspended above, forming a negative of a stair case cutting through the ceiling of the interior space.
It consist of four drawers that open from the front of the steps. The construction allows for the furniture to be walked up or sat on. This gives access to the upper part of the chest that consists of four doors that open from the front of the steps.
Material: Mdf, Ash Veneer.
Production / Technique: Fabrication
Dimensions:
Dissemination:

Danish Design Centre, 2004: 'Upstairs Downstairs', SE-remix Houte Couture. Copenhagen
Vandalorum Art museum 2005: 'Upstairs Downstairs', SE-remix Houte Couture. Sweden