Gift of a Goat – a tool that just keeps giving
Design By Jeremy Walton
Partners: Københavns Møbelsnedkeri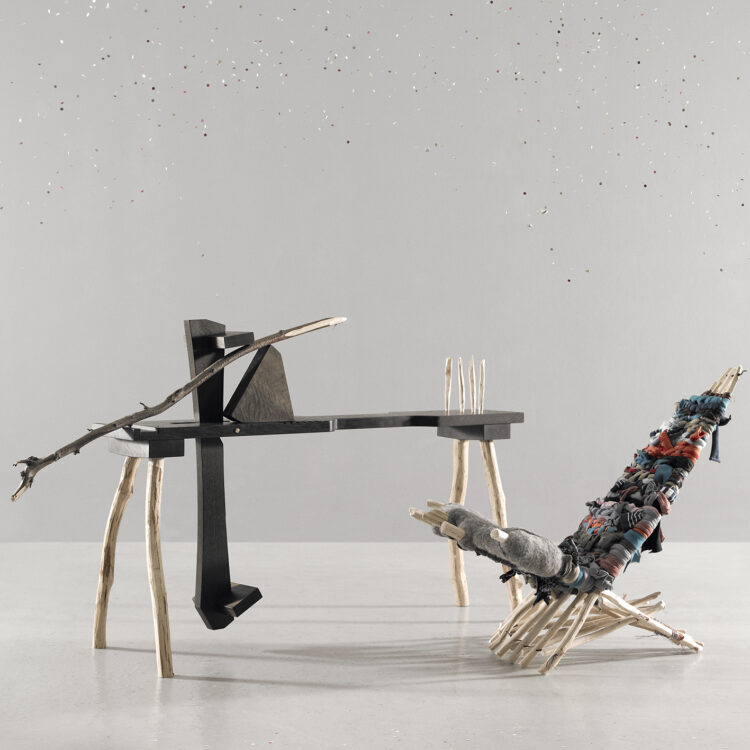 The theme for the SE Autumn Exhibition 2011 is the focus on it's 30 year anniversary. From this theme I have worked on the community action of giving a goat instead of a gift. I have asked myself what would be the furniture equivalent of donating a goat to a third party. I have worked with Københavns Møbelsnedkeri and the result is 'A Goat of a Gift', consisting of Goat as well as a Kid offspring. The 'goat' being a Shaving Goat, based on the traditional Folk Art Shaving Horse tool. This we have cut using CNC to form the seat and clamp with the legs being completed with the bench using green wood.
From the goat i have then worked on an offspring, kid, that can be made using the shaving horse. This was based on my Dialogue Stool from a previous year, a series of mind bending sticks are threaded together like a necklace creating a structure. This is then woven into using salvaged fabrics.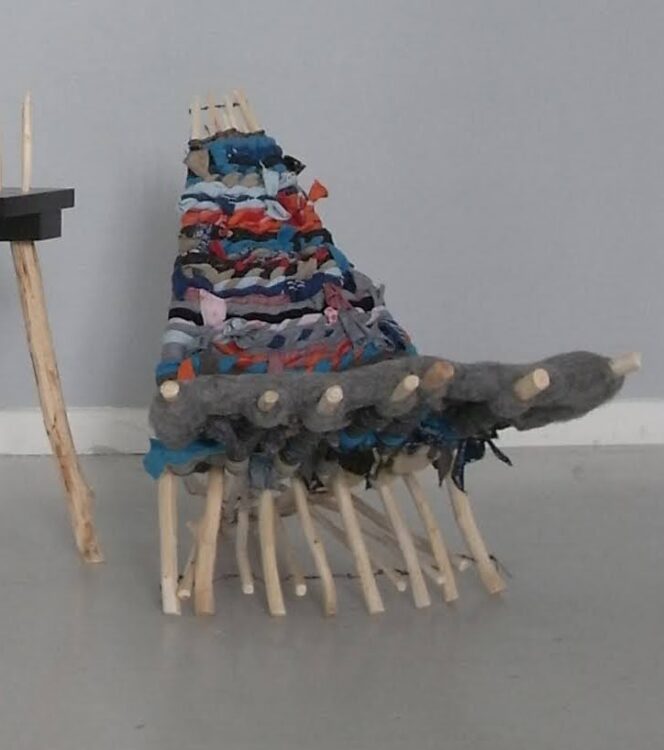 The idea with the 'kid' is that it can be made locally by anyone who has a 'goat', so as much as possible I gained help by local participants to always be testing my ideas through the hands of others. Seven year olds make for good, honest and skilled test participants.
TEXT FROM SE ABOUT THE OPENING AND EXHIBITION..

The party is held in a tent, so please bring a warm sweater.

The SE members have been asked to bring a gift of a piece of furniture. It'll be fun to see what they have come up with. I know that there is going to be a goat, a flying carpet and other exciting things, so do come and join us in celebrating the new furniture, the love of the craft, the cooperation, the association and the community.

SE – the Cabinetmakers' Autumn Exhibition
Materials: Oak
Production / Technique: CNC, whittling, threading, weaving
Dimensions: Goat – 125 x 22 x 50 cm / Kid – 80 x 60 x 80 cm
Dissemination:

Design Museum Denmark, 2011: 'Goat of a gift'. SE-30 years. Copenhagen
Trapholt Museum, 2012: 'Goat of a gift'. SE-30 years. Kolding

Related Projects: Dialogue Thread, Warp and Weft, Camel Hump