Utilitarian Veneer – the veneer becomes utilitarian
Design: Jeremy Walton
Partners: Københavns Møbelsnedkeri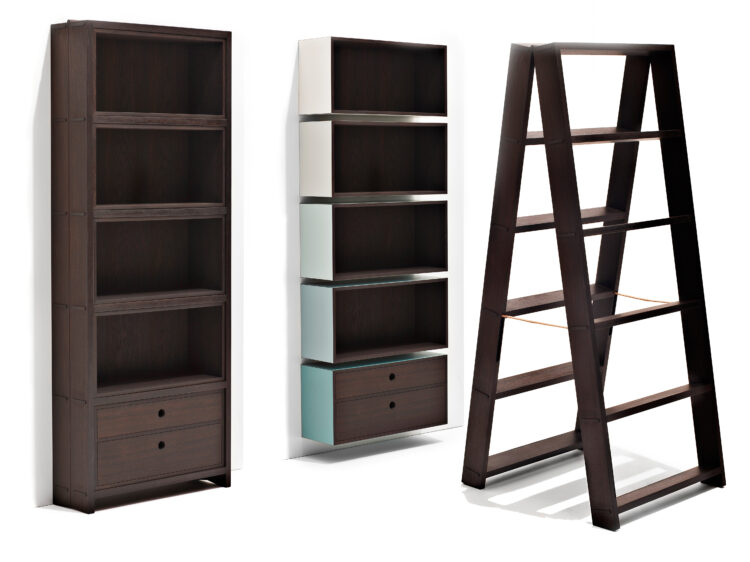 The unit consists of four open shelves and one drawer unit. The unit has a public facade, consisting of a thick veneer of wood. The unit also has a private side where the facade is no longer necessary and the thick (very thick) veneer comes off and acts as a utilitarian object, in this example a pair of step ladders.
When the thick veneer is removed, it leaves exposed a secondary non finished wood. Similar to the effect of opening a drawer on a chest of drawers, where the outside of the unit is veneered for public presentation and opening the drawer is a private affair.
Inspired by the restoration of the old industrial buildings that expose the charm of our working and utilitarian roots, set against the shiny facades of the developing quarter. Space is at a premium and if you can't fit a pair of step ladders into a cupboard, then fit the cupboard into the step ladders.
We used smoked oak wood throughout the construction of the piece, with laminate on the private exposed areas of the shelving. And the hinge detail on the ladder is also in oak. And the restraining straps are leather.
Designed in conjunction with the Danish SE 50/50 exhibition (Cabinetmakers Autumn Exhibition). The theme was to look at the working relationship between designer and maker. Which is what established the idea for the Global Made Local business model. Which, briefly, was to develop designs that required no tooling setup, allowing for drawings to be shared globally between independent cabinet makers, allowing them to have a larger selection of designs, but still keep production local.
Material: Smoked Oak, leather, formica.
Production / Technique: Carpentry
Dimensions:50 x 180 x 25 cm
Dissemination: Rundetårn, 2008: 'Global Made Local'. SE-Fifty Fifty. Copenhagen
Relating projects: Global Made Local, shelving beam, Allerød Slant