HyggeLys – candle with matchbox
Design: Jeremy Walton
DanishDailyProducts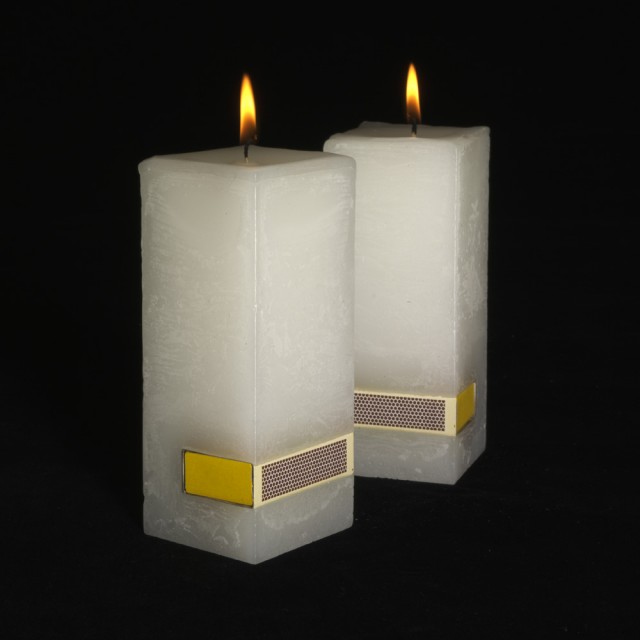 An original idea using two commonly found objects, a pillar candle and a household matchbox. The two items that have been in our daily lives for many years. The combination of the two fit both perfectly in function while also effortlessly in form. This combination creates a simple and instantly understandable object.
Jeremy Walton has been inspired by matchboxes since moving to Denmark. "The use of candles is an essential ingredient for what in Danish is called 'Hyggeligt' – cosy togetherness perfected by Scandinavians. The regular burning of candles results in a noticeable amount of matchboxes in peoples homes"
The Hyggelys candle was originally made using standard hobby shop candle moulds and with a bit of luck the size of a standard matchbox fitted perfectly into the mould quite snuggly. After selection by the designer Louise Campbell for the Danish Crafts 'Defore Exhibition' the production of the candle was moved from my Kitchen to a local candle maker. In 2004 the Candle was selected to represent Danish Crafts in the Crafts Collection and subsequently selected as part of CC+ for MoMA. The production of the candles was upgraded slightly with use of specially made aluminum forms and production moved to the east coast of Jutland, Denmark.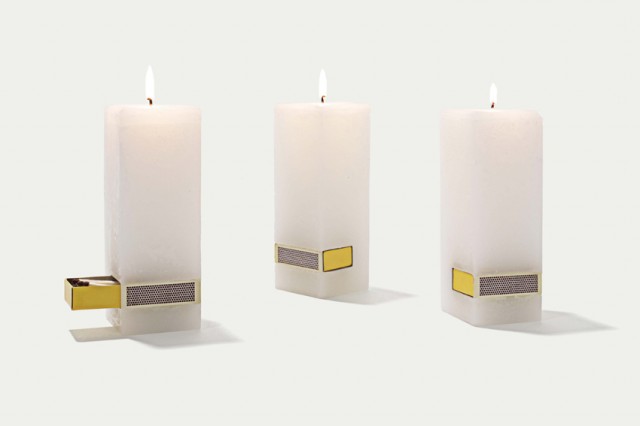 CC+ for Moma
Selected as part of the exhibition at MoMA Design Stores in Soho and on 53rd Street in New York and subsequently included in the forthcoming MoMA spring and Autumn catalogues. The special collection CC+ for MoMA was the result of close cooperation between Danish Crafts and the Museum of Modern art in New York.
The candles have gained recognition across many countries since being a part of the MoMA retail collection and included in their widely distributed catalogue.
"This is cool – This IS cool" Dec. 6: Elizabeth Mayhew from Real Simple magazine shows NBC "Today" show host Katie Couric some great gifts under $50 for everyone in your life.
Here's a gift they haven't seen before … a paraffin candle with a built-in matchbox. It's functional, minimalist design keeps matches within easy reach and is sure to please modernists and traditionalists alike. Don't worry — the wick runs out before it reaches the matches, so you won't burn the house down.

NBC "Today" show host Katie Couric.
Vintage – candle with vintage matchbox.
Design: Jeremy Walton
DanishDailyProducts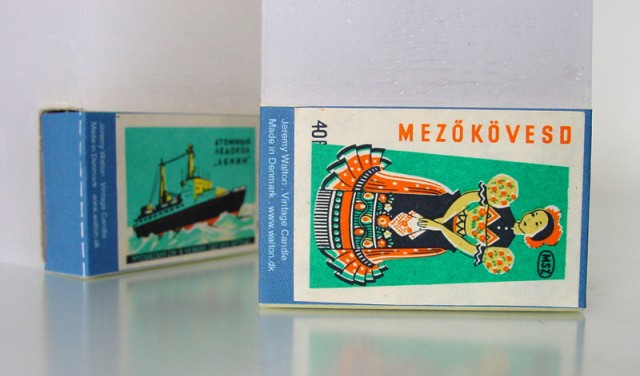 The Vintage Candle includes a matchbox that is placed with the printed side visible and uses original vintage and all very different matchbox labels. Adding to the HyggeLys 'candle with matchbox' and Colour Match candles.
"The labels themselves are brought from matchbox collectors, I only buy the ones that are of very little value to the collectors. I don't want to upset the people that collect matchbox labels. I don't wish to break up a rare set of labels by sending them to opposite sides of the world. Yet that could ignite an old challenge for the collectors."
'Motor og Miss' collection for the exhibition 'For Men' at Designer Zoo Copenhagen 2006. Motor translates as motors and Miss translates as pussy cat, from danish.
Colour Match – candle with matchbox
Design: Jeremy Walton
DanishDailyProducts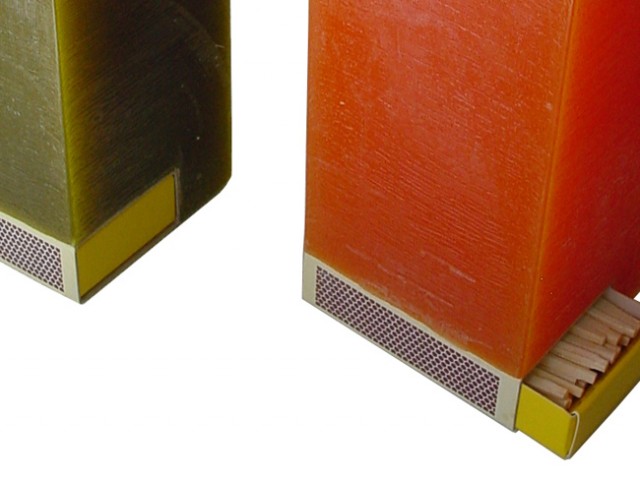 The Colour Match consist of colours that vary in relation to season and stock. The colour match candles join the Hyggelys candle with matchbox, extending the range into autumn and spring. The matchbox in the Colour Match candles is positioned at the very base of the candle.
Availability: Limited, I occasionally make orders for special events, I'm currently focusing on other ventures, but you are welcome to get in contact for updates. Or if you are a candle maker.
Material: Fully refined paraffin. Matches are not included due to transport logistics.
Production / Technique: Handmade. Casting.
Dimensions: 57 x 57 x 155mm. 40 hours burn time.
Dissemination:

Various retail outlets since 2002.
Paustian, 2003: 'Hyggelys'. Derfor curated by Louise Campbell. Copenhagen
Ambient Fair, 2005: 'Hyggelys' Danish crafts collection 09. Frankfurt.

Designer Zoo, 2006. Motor og Miss. For men exhibition. Copenhagen.
Lauritz Auction, 2006. Vintage candle sets. Passion day exhibition. Copenhagen.
MOMA, 2006: 'Hyggelys' CC+Moma exhibition. New York

Relating Projects: Hyggelys Candle, Danish Daily Products.