LampScapes – panel lampshades
Design: Jeremy Walton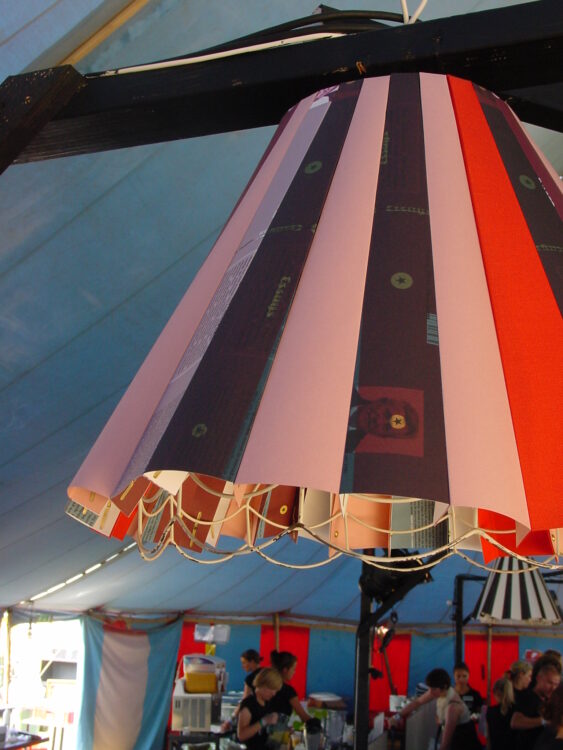 The lampshades are made of excess printers paper, folded into panels and joined together with virgin clips. A single carbon fiber ring sets the shade into its circular form. Unlike my standard LampScapes the 'Virgin Trapeze Shades' use salvaged wire lampshade frames instead of the carbon fibre ring. Old frames in new skirts.
I made these in SoupaNaturals circus tent at the 2009 Roskilde Festival. The shades were made on site with a knife and hole-punch in a production experiment to produce on site under the heading of a Silent Circus, to bring production closer to the city.
Other than the salvaged shade frames they are made of selected waste paper from a local printer, plus some Polyester 'Faber' strips from panel curtains. Pressed and folded by hand. The theme of the LampScape predicts the colour scape used. In this case taking inspiration from circus trapeze artists.
Materials: Excess printers paper, salvaged wire shades
Production / Techniques: Press folding
Dimensions: Ø70 x 45 cm
Dissemination: Roskilde Festival 2009. Trapeze Artists, SoupaNatural at Climate Community Field, Roskilde.
Relating Projects: LampScapes, Silent Circus, Cannon Smoke